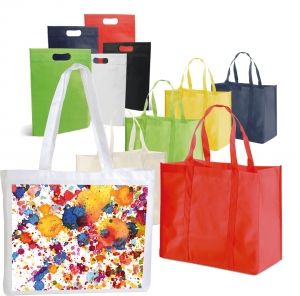 Tote bags for advertising and shopping
In this category, you will find a wide variety of our promotional textile bags, which are made of non-woven eco textiles - recyclable soft fabric from TNT, Re-PET recycled polypropylene. In our product catalog of canvas bags, you will find many different models and a variety of sizes and colors of reusable bags.
For the convenience of each customer, models of bags with long handles as well as with short handles are offered, depending on the preferences. In the rich product catalog of cheap bags, you can take advantage of a variety of models - textile shopping bags, thermo-glued shopping bags, small bag bags, as well as stylish models of promotional bags. Each model can be branded with your company logo or stamped with a picture, photo, or inscription of your choice.